Welcome to Mountain Painting Company: Sherwood Painting Contractor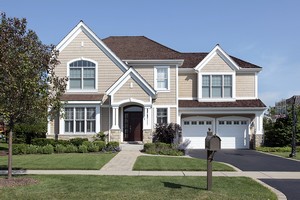 So if you are unsure which colors to choose or how best to protect your home from weather, contact Mountain Painting Company today. Call your local area painting contractor in Sherwood, OR!
Mountain Painting Company - Sherwood Painting Contractor
When you choose Mountain Painting Company you are choosing a Sherwood painting company that will always deliver top, quality results. We strive to exceed the customer's expectations every time. We always show up on time, prepared to finish your project efficiently, with amazing craftsmanship, and keep you in budget. Our Sherwood painting contractors will follow up and communicate with your preferred method of contact. We respect and will keep your home or office clean and respect your privacy. Most important of all, we are courteous and honest.
Sherwood Exterior Painting
By hiring Mountain Painting Company, you can rest assure that our Sherwood Painters will give you a high quality exterior paint job will survive the hot summers and cold winters without blistering, cracking or peeling. It will also properly seal your home or office's interior from moisture, mildew, dry rot, termites and other damaging environmental factors.
Save your time and do not tackle a big, daunting exterior painting project on your own. Let the expert Sherwood exterior painters at Mountain Painting Company handle it for you. Call today for your free quote today.
Interior Painting
Home Painting
Exterior Painting
Residential Painting
Light Commercial Painting
Office Painting
Wallpaper Removal
Pressure Washing
Staining
Fence Painting
Cabinet Refinishing
Sherwood Exterior Pressure Washing
For types of dirt that are extremely difficult to remove, Sherwood Pressure Washing or power washing is considered as the most effective method of washing them away. The reason is that power washing cleans surfaces using power, chemicals, and heat. With these three properties working together, you can practically clean any type of surface as fast as you possibly can. Pressure washing breaks the bond between the surface and any type of dirt, be it grease, mud, dust, grit, ink, and stains. It's the most effective and most efficient cleaner device since it works on both the physical and the molecular level.
Pressure washing is most useful once the winter is concluded and has paved the way for springtime. Due to the winter months, accumulated dirt of many kinds is latched into the garage, the driveway, the car, the roof, and the walls. Some of these are very difficult to reach, and since pressure washing uses a power washer hose, you can reach even most hidden nooks and crannies as long as you know how to use it.
Reviews & Testimonials on Mountain Painting Company in Sherwood, OR
"They painted the outside of the house. Excellent job. Crew was prompt, quiet and got the whole job done in two days. Clean and organized also. Paint coverage was really good...they lay it on nice and thick. This is a very professional outfit. Not the cheapest bid we got, but I have learned the hard way on other jobs we've had done that you usually get what you pay for. The other thing we liked is that Dave really knows about paint. We went with Benjamin Moore at his recommendation due to fading issues with Sherwin Williams on the last job. Mountain Painting is highly recommended based on our experience."