Laurelhurst Painting Company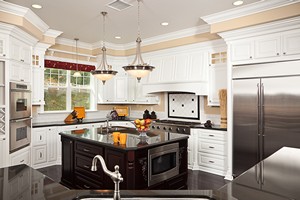 One of your biggest priorities is keeping your home as comfortable and attractive as possible. At Mountain Painting Company, we offer a number of painting services to help you do that, and our Laurelhurst painting contractors are totally dedicated to making sure that our clients are totally satisfied with our work. We provide a wide range of services including interior and exterior painting, commercial painting, and staining and refinishing services.
Our painting contractors are all licensed professionals with extensive training and experience, so we'll always be able to provide you with the best painting services possible. We're totally committed to providing each of our clients with the highest quality workmanship and best customer service possible, and no matter what services you need, we'll guarantee your complete satisfaction with all of the work that we perform. We'll work with you directly throughout every step of your project, and we'll make sure that you're getting everything you need out of the services that we provide.
Call us today to ask any questions you have about our services, or to schedule your appointment, and we'll be looking forward to working with you.
Interior Painting Services in Laurelhurst
Interior painting in Laurelhurst is an effective and cost-efficient way to enhance the appearance of your home. Interior painting will have a huge effect on the way your home looks and feels, making it more attractive and comfortable, and even increasing its resale value. Our professional Laurelhurst painting contractors can help you plan the project and decide on the perfect colors, schemes, textures, and finishes for your home, and we'll always value and encourage your input throughout the painting process.
We understand that interior painting can be an intrusive project, so we'll always strive to complete our work as quickly as possible. However, we'll never sacrifice the quality of our work in favor of a speedy job. We'll do whatever it takes to make sure that you're totally satisfied with the final outcome of the project, and we'll be courteous and respectful of you, your family, and your home, throughout the process.
Laurelhurst Exterior Painting
Our Laurelhurst exterior painting services are designed to help keep your home's exterior as healthy and attractive as possible. Our professional exterior painting services will enhance and increase your Laurelhurst home's curb appeal, and they'll help to protect your home from the potentially damaging effects of weather and the elements. We use only the highest quality products, and we'll always make sure that your exterior paint job is great looking and long-lasting as possible.
Reviews & Testimonials on Mountain Painting Company in Laurelhurst, OR
There are currently no reviews or testimonials for Laurelhurst, OR. Check back soon!
Contact Us Today
If you are looking for a house painter in Laurelhurst, call Mountain Painting Company at 503-505-4091, or complete our online request form.