Prepare to Sell Your Beaverton Home with a Fresh Exterior Painting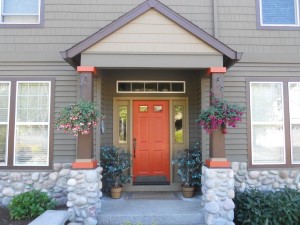 When the time comes to sell your home, you'll need to put in some work to make the easiest and most profitable sell. Perhaps some of the most effective work you can get for this purpose is a fresh exterior painting. By getting the exterior of your Beaverton home freshly painted, you can enjoy some great benefits that will pay off when it comes time to sell.
Your exterior paint job will suffer significant wear through the years, and if that wear is present when you put your home on the market, you could miss out on many qualities that otherwise make for a successful sell. By getting your exterior paint job touched up, though, you can enjoy some great qualities such as . . .
Better Curb Appeal
To sell your home, you'll need to attract buyers, of course, and to attract customers, your home will need to boast excellent curb appeal. However, if your home's exterior coat of paint has begun to flake and fade, as it will over time, you may wind up deterring rather than attracting customers.
So, if your exterior coat of paint is looking far less than attractive, you'll need to address it before listing your home. Doing so, you will make your home stand out and catch potential buyers' eyes, ensuring that your house is able to sell as quickly as possible.
Higher Resale Value
As your Beaverton home's exterior paint job wears away, it will suffer more than just the loss of its curb appeal. It will also lose much of its resale value. After all, people are disinclined to pay top-dollar for a fixer-upper -- especially when the thing needing to be fixed up is as prominent and important as an exterior painting.
That's why you need to ensure that your home boasts a beautiful exterior coat of paint before you put it up for sale. With a beautiful, fresh exterior coat of paint, your home's value will increase thanks to the aesthetic and protective qualities that a quality paint job offers.
Ability to Address Minor Damages
Your home's exterior paint job isn't the only component that can make or break a successful sale. You also need to address the condition of the rest of the house, and doing that means finding and addressing wear and damage, both large and small.
That's a way that a fresh exterior painting can help you kill two birds with one stone. While providing the better curb appeal and resale value mentioned above, your painters will also be able to locate and address minor damages on your home's exterior. So, with this service, you can be sure that your home will be in the best possible condition to be sold.
Get Your Exterior Painting from an Experienced Painting Company
Are you ready to sell your Beaverton home? Does it need a fresh coat of paint before you do so? Then don't hesitate: Call the area's dependable painting experts at Mountain Painting Company. We provide top-quality work at a competitive price to help you enjoy the smoothest and most profitable sell.
Contact Us Today
If you're looking for expert exterior painting services in Tigard and the surrounding areas, please call 503-505-4091, or complete our online request form.