Best Paint Schemes for Spring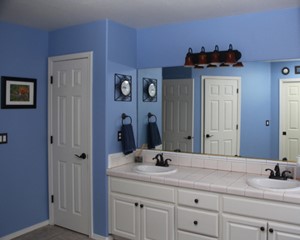 Springtime is here, and like many people, you've probably got a pretty strong urge to do some spring cleaning and otherwise spruce up your Tigard home. In your process of spring-ifying your home, you might want to consider getting a fresh coat of paint for it.
After all, the paint scheme can make a big difference in the overall look and feel of your Tigard area home. Are you knocking around the idea of getting a fresh interior painting? Then take a minute to read through this article. In it, we offer some suggestions for getting the best paint scheme for springtime.
Pink: Reminiscent of Blooming Flowers
Nothing brightens up your home quite as beautifully as a soft, light paint scheme can. For an authentic springtime feel, few paint schemes are quite as effective as pink. Shades of pink are reminiscent of blooming flowers, making them a great spring paint scheme.
Another thing that makes pink a great color is that it's a calming and beautiful shade that adds color to any room. By adding shades of pink to your kitchen, you can enjoy a calm and cheerful demeanor while cooking the meals you'll enjoy through the spring.
Blue: A Bright, Serene Color
Springtime is a serene time. The gray of winter is melting away, the birds and other creatures are waking back up, and the weather is finally warming up enough for you to get out and enjoy being in nature. At this time of the year, you may find yourself unable to get enough of this serene atmosphere.
If that's the case for you, then you might want to consider having your Tigard home painted in shades of blue. Blue gives off that same serene, born-again vibe that pretty much all of spring does. Try adding blue to your bedroom so that you can begin and end every day with this kind of mindset.
Green: Perfect for Springtime
Of course, when it comes to springtime colors, nothing is more perfectly springy than green. Green inspires visions of blooming trees and lush fields and the overall feeling of life and liveliness that is springtime.
If you're looking to enjoy spring all year long in your home, you can't beat a green paint scheme. Better still: Green works in many rooms! So, whether you're looking to add spring to your kitchen, bedroom, bathroom, or just about anywhere else, you'll find you can't go wrong with a stunning shade of green!
Our Team Will Get Your Tigard Home Spring Ready
Does a fresh interior coat of paint sound like the best way to get your home ready for the spring? If it does, give the Tigard painting contractors at Mountain Painting Company a call. We offer quality painting services that will get your home spring-ready in a jiffy.
Contact Us Today
If you are looking for Interior Painting tips from a Painter in Tigard and the surrounding areas then please call 503-505-4091, or complete our online request form.