4 Interior Painting Colors Inspired by the Winter Season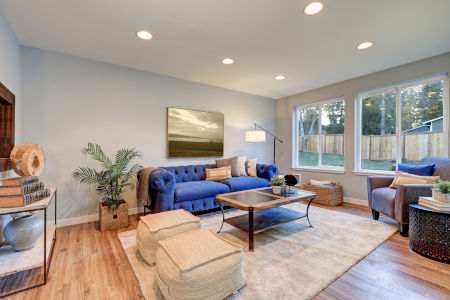 Interior painting isn't just a project for the summer, so if you've been thinking about hiring a painter to refresh the paint on the walls inside your Portland area home, now is the time. If you're inspired by the approaching winter season, there are many shades of paint that are not only reminiscent of chilly weather but also suitable for every time of year.
Rich Scarlet
Homeowners who eagerly wait for the holidays and cooler weather will enjoy the warmth and vibrancy of a deep red hue. Scarlet is a bold shade, so if you want to use it in moderation, consider applying it to an accent wall. A red wall in your home will exude passion and jubilation, and it will pair perfectly with warm-toned woodwork and furnishings and neutral colors such as white, taupe, and black.
Dove Gray
If you don't think you can commit to a bold color, have your painter apply a neutral hue with some visual appeal, such as a cool-toned gray. Gray is gender neutral and extremely versatile, and it can be applied to walls in any room, including an office, a family room, a bedroom, or a bathroom. Opt for a gray with a hint of blue if you want to instill a sense of calm and relaxation.
Subtle Sage
A muted green is both festive and timeless. Because it resembles the natural environment, a light sage is a splash of color that can serve as a neutral. Green is found in almost every holiday decoration during the winter season, so hiring a painter to paint your walls a subtle green will provide an excellent backdrop for wreaths, garlands, and Christmas trees. Additionally, when the holidays are over and the decorations are put away, your sage green walls will add freshness and vitality during spring and summer.
Navy Blue
Navy blue is another pop of color that can be used as a neutral shade in interior design. When perceiving a deep blue, you may think of ocean water and night skies, both of which emit a sense of tranquility and contentment. Select navy blue if you want a shade that is not only classic but also trendy and modern.
Once you've chosen an interior painting color that suits your Portland Area household's personality and preferences, reach out to an experienced painter from Mountain Painting Company to ensure that your walls are painted with care and precision.
Contact Us Today
If you're looking for an experienced pressure washing contractor in the Portland Metro area, please call 503-505-4091, or complete our online request form.