Why You Should Hire a Portland Painting Contractor to Handle Your Exterior Painting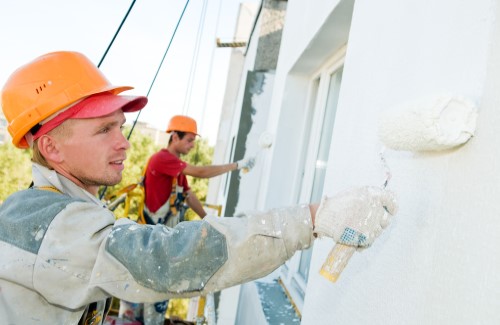 If you're thinking of getting a fresh exterior coat of paint for your Portland home, then you need to be sure to leave the work to a professional painter. By handling your painting yourself, you run the risk of getting a paint job that's not as good as you might be hoping for while also enduring more stress than the work might be worth.
With a professional painter, on the other hand, you can simply sit back and wait to enjoy a beautiful new exterior coat of paint. After all, a professional painter can offer things that you yourself might not be able to -- and they can because:
They Have the Right Equipment
Painting requires more than a brush and some paint, especially exterior painting. You'd need ladders, rollers, extensions, tape, and likely even pressure washing equipment. And all of that costs money -- quite a bit of it, in fact.
If you don't want to handle the expense or stress of cobbling together all of that equipment, then look into hiring a professional painter instead. A painter will already have all of the equipment needed to provide a top-quality exterior painting, thus saving you the hassle and expense.
They Have the Know-How
Let's say you have access to all the equipment needed to paint the outside of your home. You don't have to endure the expense or headache of gathering it all up. Wonderful. Now, ask yourself this: Do you know how to put all of that equipment to its best use? Do you know how to use it to ensure the best results and the safest process?
If you're not absolutely 100 percent on your ability to use your painting equipment at a level that a professional painter would, then go ahead and have a professional handle the work. That way, you won't have to endure the dangers that can come with an exterior painting, and you can know that you'll get a high-quality final product.
Their Results Will Be Guaranteed
And that last thing we mentioned just now is really all you should hope for with an exterior painting: a high-quality final product. Even if you have the equipment and enough know-how to put it to use, can you really trust yourself to provide the best exterior painting?
To get guaranteed results, hire a professional painter to handle your exterior painting. A professional will offer warranties and guarantees that promise you this: One way or another, you WILL get the quality of exterior painting that you want. And more than anything, that peace of mind should be enough to convince you to leave your exterior painting to the professionals.
Contact Us Today
If you are looking for an experienced interior painting contractor in the Portland Metro area, please call 503-505-4091, or complete our online request form.