How to Make Your Interior Painting Last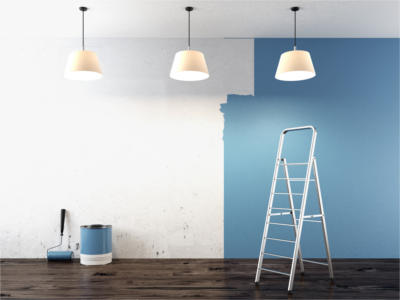 Reviving your Sherwood home could be as simple as some interior painting. Instead of dismantling your home with a complete renovation, you can hire a painter to apply a fresh, vibrant coat of paint that exemplifies your interior decorating tastes while helping you refrain from breaking the bank. Before your Sherwood painter applies the paint of your choice, make sure to prepare surfaces properly so that your paint job lasts for years to come.
High-quality paint is important, but priming before paint application is probably even more important. Primer is used to cover previous colors effectively and make your new paint colors more vivid. Professional painters recommend applying a coat of primer before a coat of paint instead of applying just two coats of paint.
Limit the level of humidity in your home before you hire a painter to apply new paint. Good insulation is essential to prevent the accumulation of moisture in your home that can cause your new paint job to peel.
Cleaning your walls before painting is crucial because paint will not stick to walls that are covered with layers of grease, dirt, and cobwebs. Like humidity, dirt can loosen new paint and shorten its life span.
Make sure to repair all surfaces before painting them. Woodwork with signs of insects, rotting, or warping should be replaced, not painted over. Painting damaged woodwork is futile because the bad condition of the woodwork will undermine the presentation of the interior painting.
Thin paint applications will weaken when dry, and thick paint applications will sag and develop cracks when dry. Your painter will check to make sure the paint application is the correct thickness with a wet-film thickness gauge.
If you think fresh interior painting is what your Sherwood home needs to feel fresh again, contact an experienced painter at Mountain Painting Company, and don't forget to prepare for your new coat of paint so that it lasts for many years.
Contact Us Today
If you are looking for an experienced interior painting contractor in the Portland Metro area, please call 503-505-4091, or complete our online request form.