West Portland Interior Painting – Make Picking Your Color Fun!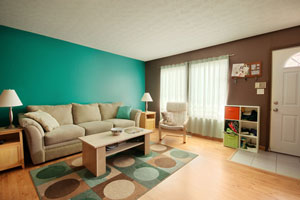 While you may hear a lot about not making bold color choices and avoiding color fads, that doesn't mean you have to settle for a drab interior. You can still transform your interior from ordinary to extraordinary by using fun and amazing color choices for your interior painting project in West Portland. So here are a few things to think about before you choose your next paint color.
The Importance of Color
Did you know that 60% of our response to an object or place is determined by color? So it only makes sense to want to be sure that you end up, not just liking, but loving the colors you choose for the interior of your home. Plus, color impacts mood so you obviously want to set up your own home so that it continually puts you in a positive or relaxed mood.
When you are not sure about a color, keep in mind that you can start small. Try painting a board and let it sit in the room for a few days to see how it makes you feel. Or even choose just one wall or a small room like a powder room. That way, if you don't end up liking it you can easily make changes.
If you are looking for inspiration, let your interior design inspire you. Look at the color of your furniture or even a hue in an accent streak in a rug. The items you have already chosen to surround yourself with should already be colors that make you feel good.
Also, do not make the mistake of forgetting to consider different lighting situations. Look at your color sample in the lighting you have, natural lighting and even natural lighting on overcast days. You may love a shade on a cloudy day with no lights on but will it look as good at night with only bring interior lighting? This is especially important if you are using fluorescent lighting.
Find the Right Experts
The other essential task is to make sure that you find the right pros to work with. Working with reputable industry experts means you will get the advice you need as well as suggestions and feedback in order to make the right decision. The good news is that you have already found that team, right here at Mountain Painting Company.
For the finest in West Portland interior painting service, you can count on us. With over 20 years of professional, hands-on industry experience we know how to deliver the quality results our customers want. Give us a call right now to find out more about what we can do for you.
Contact Us Today
If you are interested in interior painting services for your West Portland home then please call 503-505-4091, or complete our online request form.