Which Fence Stain Color Is Right for Your Irvington Home?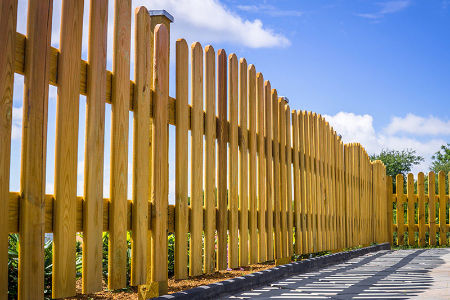 If the wood fence on your Irvington property is looking weathered, consider hiring a painter to apply a new stain color. Before selecting a new color for your fence, look around to examine other structures surrounding your home, and then choose a color that either complements or contrasts with these features.
3 Color Ideas for Your Fence
Gray – Cool neutral tones can be a great contrast to the lush green landscape surrounding your home. Have your painter apply a gray solid color stain to your wood fence if you want to create a sleek, modern look. Regardless of the color of your home, a gray fence will complement the other features on your property.
Yellow – A warm mustard hue may be the perfect color for your wood fence if you want to add some brightness to your landscaping. You'll have a cheerful demeanor all year round when you apply a golden yellow shade to your fence.
Blue – Consider a powder blue stain if you want to create the same effect as a white fence. This choice not only adds a pop of color but also provides a delicate appearance. On the other hand, your painter can apply a dark navy blue to your fence if you prefer a pop of color that can function as a neutral.
Types of Wood Fence Stains
Transparent Stains or Sealants – With transparent stains, you'll still be able to view the natural color and grain of the wood fence underneath. These stains won't penetrate the wood like alkyd stains because they're usually water based.
Semi-Transparent or Alkyd Stains – Semi-transparent stains tint wood fences with colors slightly, and they offer excellent protection from the natural environment. As a general rule, you can apply a solid color stain after a semi-transparent stain, but you can't apply a semi-transparent stain over a solid color stain because the wood has already been sealed and won't let the stain soak in.
Solid Color Stain – Solid color stains don't penetrate wood. Instead, they simply cover wood surfaces. The natural grain of the wood isn't visible when a solid color stain is applied.
Once you've selected a stain color and determined which type of stain to use, you're ready to schedule fence staining services with a reputable painter from Mountain Painting Company so that you can take steps to beautify your Irvington home.
Contact Us Today
If you're looking for an experienced fence painter in the Portland Metro area, please call 503-505-4091, or complete our online request form.