Should You Stain or Paint Your Kitchen Cabinets?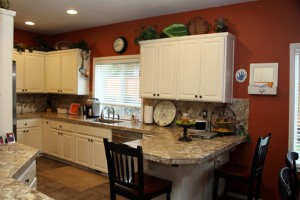 The kitchen cabinets in your Alameda home will experience significant wear and tear over time, and if they're not aging well, hiring a painter for cabinet refinishing services will make them look new again. Depending on your interior design tastes, you can opt for either stained cabinets or painted cabinets, and you don't have to stick with the cabinets' current color or finish. You can alter their appearance so they transform your kitchen completely.
Stained Kitchen Cabinets
Homeowners who enjoy the timeless look of wood finishes often stain their kitchen cabinets. Stained cabinets are versatile because they have neutral finishes that match many colors and styles of furnishings. Your painter can use a matte or glossy stain, and you can also choose a stain that resists fading from UV rays. If you're concerned about your home's resale value, stained cabinets are a smart choice because they're expected to stay in style indefinitely. They don't offer as much variety as painted cabinets, but they require minimal maintenance. Touching up the stain is also fairly simple, and the cost of stained cabinets is reasonable.
Painted Kitchen Cabinets
The modern look of painted kitchen cabinets is very popular. If you prefer the appearance of painted kitchen cabinets, you'll be pleased to know that their color variety is expansive, and they're easy to clean and maintain. The cost of painted kitchen cabinets largely depends on the type, color, and quality of paint that you select, and painted cabinets are often more expensive than stained cabinets. Your painter can either brush or spray the paint onto the cabinets. Brushing is not as seamless as spraying, but the paint is usually easier to touch up later. Spraying provides a very polished finish. However, the wood cabinets must be completely smooth before application, and touch-ups tend to be difficult. Additionally, painted cabinets may crack as they age.
Your Alameda home could greatly benefit from cabinet refinishing services from a reputable painter at Mountain Painting Company. Once you've chosen a stain finish or paint color, contact a skilled painter to make your kitchen cabinets look brand new.
Contact Us Today
If you are looking for an experienced cabinet refinishing contractor in the Portland Metro area, please call 503-505-4091, or complete our online request form.